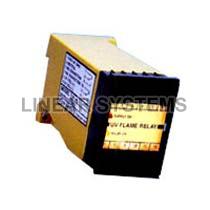 Solid state flame signal amplifiers use signals from rectifying, ultraviolet, or infrared flame detectors to determine the presence of a flame. Select the flame amplifier based on the flame detector you have and the required response time to a flame failure.
A UV/IR flame detector is made up of UV and IR sensors that are attached to a single device. UV sensors are sensitive to a variety of combustible fuels, including hydrocarbons, sulphur, hydrazine, and ammonia, and they operate by sensing the UV light released by the flame.
The fact that UV and IR sensors are merged into one device and have the same alert source—a genuine hydrocarbon fire—is its main advantage. Although each sensor functions independently, as was already said, the addition of cutting-edge signal processing algorithms enables the pairing of the two sensors to provide exceptional flame detector performance to a variety of flammable liquids, gases, and volatile solids.
The UV or IR sensors can each offer improved false alarm rejection at the same time. They are utilised in a wide variety of hazardous situations, including gas turbines, industrial heating and drying systems, petrochemical oil and gas industries, and other comparable facilities.
UV and IR wavelengths are very sensitive to UV/IR sensors. It frequently detects flame by comparing threshold signals from different ranges, lowering the number of false alarms. It is available for purchase online and is undoubtedly one of the greatest instruments for tracking fires.
Keep the Following Things in Mind while Purchasing UV Flame Amplifier:
• Quality and Legal Approval: Any kind of legal Certification provided by UV flame amplifier exporters confirms the quality of the UV Flame Amplifier. Clients are reassured by certification from the International Organization for Standardization (ISO).
These judicial approvals ensure the company's growth in addition to setting a standard for the caliber of the provided goods and services. As a result, when you see these companies' branding on your products, you automatically invest in them.
These certifications set a standard for environmental and health protection in addition to attesting to safety. ISO is the industry benchmark for industrial product standardization.
Before a company expands, it is essential to earn the public's trust. With ISO certification, a product gains a worldwide reputation. Customers can be confident that the product is continually getting better thanks to these indicators.
It has been built to look for flames in response to signals from rectifying, infrared, or ultraviolet flame detectors. It ought to function properly with burners that cycle on and off at least once every 24 hours.
• Expertise and Experience: To satisfy client demands, UV flame amplifier exporters must constantly improve their products. These are purchased by customers of various types for a variety of reasons. Make sure your manufacturer is passionate about producing higher-quality products. And when it comes to development, your manufacturer should be familiar with you. A successful business is the result of sound research.
A skilled team of UV flame amplifier exporters in Mumbai is never finished improving. The needs of the consumer change with time. However, when the team undertakes continual research and surveys, there is consistency in the development of the goods. As a team develops its experience, they become better at building a stronger network in the market. A knowledgeable workforce gives customers further assurance.
Due to the Flame Amplifier's compliance with worldwide quality standards and regulations, it can be used in practically any nation. It displays intensity in a precise way. It features a pre-alarm and enables you to choose a custom threshold value.