UV Flame Amplifier Helping In Fire Measures
Posted by Admin on June, 12, 2021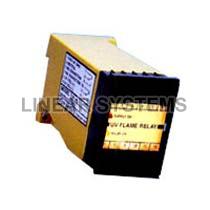 An electronic device that functions in increasing the power of a signal is called an amplifier. The properties of the amplifier are measured by certain parameters. The ratio of the output magnitude and the input signal is called gain. An amplifier has an electronic circuit of dual port, it uses the power supply for increasing the amplitude of its input and producing a proportionally greater signal at its output.

Flame Detector
A sensor which is designed to detect and correspondingly respond to the presence of fire or a flame is called a flame detector which also allows flame detection. A flame detector is used for industrial purposes such as confirming if a furnace is working properly. The ultraviolet detectors by detecting the emitted UV radiation as soon as an ignition takes place.

A flame detector that is responsive to any noticeable light is called a UV flame amplifier. These detectors are required as a device for sensing light in CDS photoresistor. These flame amplifiers are ideal for sensing flame, especially in oil-fired burners. The flame amplifier comes with free relay contacts with two possibilities of rates 230 V AC and 5 Amps.

UV flame amplifier exporters Mumbai deals in these products which have applications of gas detection, pharmaceutical uses and various other industrial uses. The UV flame amplifier comes with a digital display type that helps in better handling and also user friendly, also the digital readings are much more accurate. These amplifiers are also rechargeable and run on natural gas.

The UV flame amplifiers use a cadmium sulphate photoresistor as a device for sensing light. The flame rod amplifier senses the flame by using the technology of rectifying flame detection. A voltage is provided by the amplifier for the flame electrodes, which are immersed in flame for being sensed. The current which is generated by the flowing electrons through the flame is detected by the controller.

UV flame amplifier exporters from India offers buying and selling at best prices and claims best products.

Features
The UV flame amplifiers are not effective for the visible lights and the refractory glows. This product is perfect for burners that are fired up by gas. These flame amplifiers match industrial standards. The flame amplifiers feature robust construction and are quite easy to install. These flame amplifiers come with sensitive technology of light sensing.

The flame amplifiers are solar insensitive. This product also responses to the fire originated from hydrogen and hydrocarbon and also to the metals. The most important feature of the flame amplifiers is it responds in a time of less than 10 milliseconds. These amplifiers are insensitive to welding, lightning, sparks and arcs as well.

Application
The UV flame amplifiers find their application in a number of industries, such as the ceramic industry, petrochemical industry, chemical industry, refineries, fertilizer industry, sugar and beverage industry, distilleries, cement industry, the rubber industry and pharmaceutical industries.

UV flame detectors are also required in the areas where smoke detectors or heat detectors might be prone to a false alarm.

Conclusion
Irrespective of many advantages of these flame amplifiers, the UV flame amplifier exporters also need to mention that these products might be not supportive in some cases. Vapours and gases various kind might reduce the performance of these amplifiers. Again, these amplifiers are not suitable for applications like detecting fires that originated from non-carbon sources.
This entry was posted on June, 12, 2021 at 11 : 31 am and is filed under UV Flame Amplifier. You can follow any responses to this entry through the RSS 2.0 feed. You can leave a response from your own site.